Kira Onodera, Victoria Linchong and Katherine Yew
Photos: Johnathan Slaff
Big Flower Eater

Characters: Lucy and Lia
Directed by Victoria Linchong, Devised by Victoria Linchong, Kira Onodera & Katherine Yew
Theater For The New City, Feb 2013

BFE is a devised multimedia theater piece and a whimsical collage of folktales, rituals, dance and historical texts. It conjures the untold history of women in Asia through Shamanism in three different cultures: Hmong, Taiwanese and Korean. The title is taken from a derogatory Chinese term that means dreamer or fool. Kira played Lucy, an elderly woman with a dark secret and Lia, a ghost of the young girl who doesn't know her name.
Jenny Lee Mitchell and Kira Onodera
Fire Island
Character: Hiroko
Written by Charles Mee, Directed by Kevin Cunningham
3 Legged Dog, January 2009 (APAP Presentation Week)

Fire Island is a sensation-rich spectacle and an erotic drama of vast cinematic images.The audience sits on beach chairs in the middle of a huge room bracketed by wide screens creating an HD video backdrop. Kira played Hiroko, a bored, self involved lesbian trying to dump her clingy girlfriend.
The sold-out houses frequently broke out into spontaneous dance parties at the end of the show.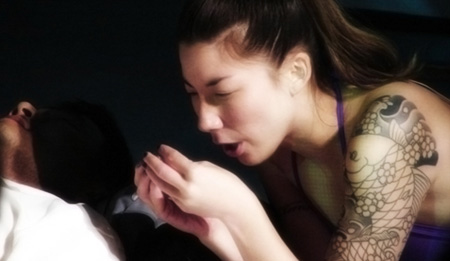 Kira Onodera with Steve Park
The Wind-Up Bird Chronicle

Character: May Kasahara
Written by Stephen Earnhart and Greg Pierce, Directed by Stephen Earnhart
3 Legged Dog + Asia Society, Fall 2007 - Fall 2008
The Wind-Up Bird Chronicle is an interdisciplinary theatrical production based on the international best-selling novel by one of Japan's most celebrated writers, HARUKI MURAKAMI.
Kira developed the character of May Kasahara over the course of three workshop productions from October 2007 - September 2008 at 3LD and Asia Society in New York City.